Imagínense por un momento, que a finales de los 90s consideran que no existen buenas herramientas FOSS para el diseño 3D, y comienzan una carrera para crear una excelente herramienta que llene todas sus expectativas. Esa es la historia de Peter Eastman y Art of Illusion.
La historia de Art of Illusion
Peter Eastman, comenzó a finales de los años noventa a crear una herramienta FOSS para diseño 3D debido a que siempre estuvo atraído por la computación gráfica y sentía que las herramientas del momento no eran lo suficientemente completas.
Su trabajo lo lleva a crear Art of Illusion, una poderosa herramienta de diseño 3D creada en Java y que vió la luz el 29 de octubre de 1999 y que actualmente alcanza entre 200 y 300 descargas diarias.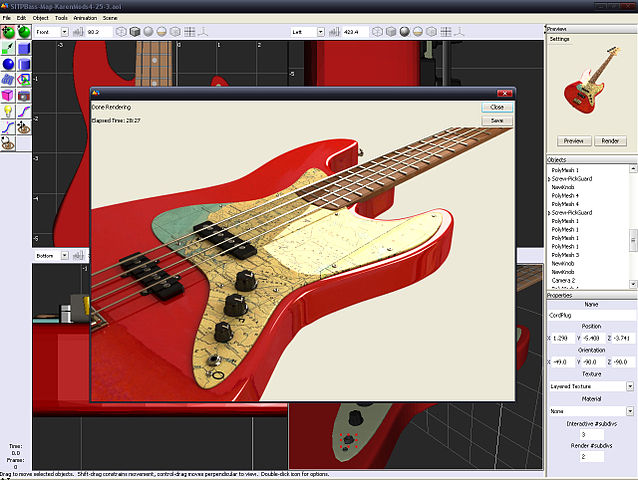 Modelado 3D en comunidad
Art of Illusion, con más de 14 años de desarrollo tiene todo tipo de características para modelado 3D como mapeo de textura y modelado booleano.
Adicionalmente posee repositorios propios para descargar y compilar extensiones propias, una característica que no existe en herramientas similares de tipo propietario.
El desarrollo de Art of Illusion está dirigido por Peter Eastman, y es él quien al final decide la inclusión o no de nuevo código. Es mantenida por desarrolladores independientes a nivel mundial que pueden crear sus propios scripts y plugins los cuales envían para la aprobación de Eastman.
Art of Illusion, maneja dos ramas: Una conocida como "Early Access" que mantiene la última versión estable; y una Beta o "bug fix".
Art of Illusion, está licenciada como GPL, traducida a nueve idiomas entre los cuales está español. Por ser desarrollada en Java, es multiplataforma y teniendo en cuenta su potencia, solo pesa entre 7.2 a 8 MB.
Imagen tomada de:
http://upload.wikimedia.org/wikipedia/commons/thumb/4/4f/Aoi231shot2.jpg/638px-Aoi231shot2.jpg