Con todo esto de los dispositivos móviles y el auge de los dispositivos multimedia en el hogar (televisores inteligentes y consolas de vídeo juegos), ha aparecido un nuevo concepto: Los servidores de medios. Estos permiten compartir audio, fotos y vídeo entre distintos dispositivos, incluyendo claro está los computadores. Pues el equipo de Gnome ha desarrolado uno propio, que viene con Gnome 3 y se conoce como Rygel.
Rygel como tal es un servidor universal de medios de audio y vídeo de conectar y usar. O en inglés UPnP AV Media Server (Universal Plug And Play Audio Video Media Server). Que realmente viene siendo un servidor que implementa el conjunto de protocolos que componen lo que se llama Universal Plug and Play. Y que vienen siendo estandarizados por organizaciones como la Digital Living Network Alliance (DLNA).

Rygel, lógicamente es uno de los tantos proyectos de Gnome y está elaborado en un lenguaje conocido como Vala. Que es un lenguaje orientado a objetos que se ha vuelto el alma de muchos proyectos del proyecto Gnome.
Este funciona como un renderizador de medios que puede ser controlado remotamente por un controlador UPnP o DLNA. Ya que como maneja estos estándares puede interactuar con la mayoría de dispositivos que también los manejan. Es decir desde PlayStations, XBox, televisores inteligentes, teléfonos inteligentes y bafles DLNA.
Actualmente Rygel, está en los repositorios de muchas distros de GNU/Linux. Y luego de instalado solo se deben configurar las preferencias para que empiece a difundir los contenidos por la red de nuestra preferencia.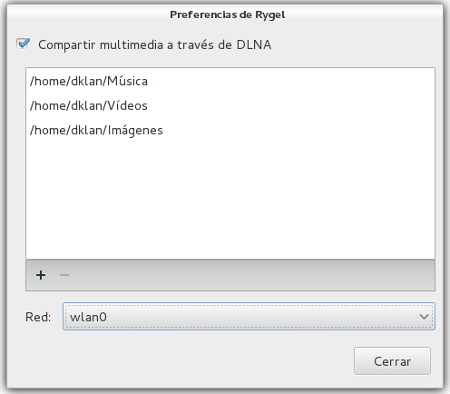 El logo de Rygel es tomado de la wiki de Gnome