Como no todo debe ser temas técnicos, tomemos un rato para burlarnos de esas situaciones. Para los amigos que nos visitan aca les dejos unos cortos tips de humor recopilados.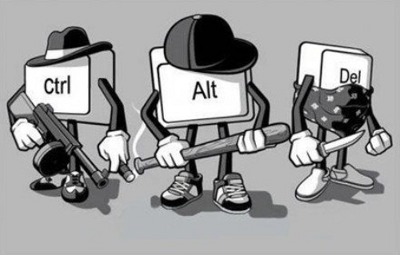 mE pArPaDeA eL lEd DeL bLoQ mAyÚs, Es mUy GrAvE?
Evite los virus. Hierva el PC antes de usar.
Necesito psiquiatra para Pentium que se cree 386.
6 x 6 = 36.001211322100 — Pentium inside.
Mi sistema operativo es multitarea : Acaba con mis nervios y mi paciencia al mismo tiempo.
Hardware : Lo que golpeas; Software : La causa.
?Quien ""#%&& ! ! es el General Failure y Por qué esta leyendo mi disco duro?
Los README.TXT son para los cobardes. Se valiente: Ejecuta.
Conecto, luego existo… No conecto, luego insisto.
No hay mail que por bien no venga.
mE ENCANTA CUANDO ME DOY CUENTA DE QUE HE PULSADO BLOQ MAYUS.
Keyboard not available – Press F1 to continue…
Quienmeharobadolabarraespaciadora?
Command.com secuestrado por virus terrorista. Pide 3'5 GB de disco duro.
Si no fuera por C, usariamos BASI, PASAL y OBOL !
User error: Replace user, hit any key to continue.
Multitarea : Leer en el baño.
Ley del software : Si aprendes a usarlo, sale la siguiente versión.